Firefighter Combat Challenge 2006 for State of RI
Pete is a former level I RKC and StrongFirst II
Training in various forms of martial arts for the past 13 years
MEET PETE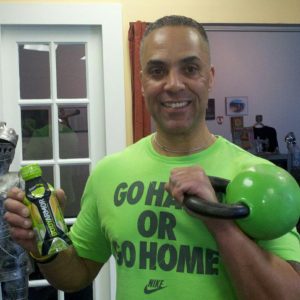 Peter Vieira is not only the Owner and Head Trainer at Body Armour Fitness Kettlebell & Cycle he is the HEART.
Fitness has always been a top priority for Pete, and he brings clients over 25 years of experience. A life long RhodeIslander, and now retired Providence Firefighter, Pete enjoys all forms of physical activity. He tries to incorporate something new and challenging to each and every class.
In 2004 he picked up his 1st Kettlebell as a means to get himself in better shape…and has not put it down since. His love for Kettlebell training inspired him so much he started training Friends and family in his backyard to share the amazing benefits that he was seeing first hand. In 2008 his dream of opening his own gym became reality and he has been non-stop ever since. Pete has trained clients from all walks of life and would have it no other way. Whether you are just starting your fitness journey, or are a fitness guru Pete's techniques and his million's of workouts will bring out the STRONG in YOU! Staying true to his roots he treats everyone who walks in the door like family and friends walking through his backyard. Peter and his Body Armour Fitness Kettlebell & Cycle Team take Pride in helping you set your goals and making sure you achieve them.
Black Belt in Kenpo Karate
Participant in several Firefighter Combat Challenges